Posted by TGS on Feb 02, 2010 in GAMES, REVIEWS.
Yellow Folks, welcome to my first of hopefully many reviews on Appdope. In this rather lengthy block of text I'll reviewing arguably one of the best Baseball games available on the app store. Gamevil are quickly becoming well known for their ground-breaking games on the app store. From what we've seen of them so far they seem to specialize in RPG's and are well known for their best selling games Zenonia and Hybrid: Eternel Whisper. This game is a sequel to the 2009 edition of Baseball Superstars which has improved gameplay, updated graphics and more customization!
STORYLINE: 7/10
You are an aspiring young baseball player refereed to more often than desired "Rookie" by your coach and other characters. You have a choice of 12 teams to chose from and hopefully you can hit/pitch them to the top of the table to become more popular and skilled. To be the best player there is you'll have to train hard but there will also be time for dates with love interests or publicity events.
GAMEPLAY: 9/10
The  batting gameplay is pretty straight forward and what you'd expect and hope for in a baseball game, you have directional arrows to press where you want to hit the shot and one button to take a swing or one button to simply tap and run. At first mistiming shots will happen more often than you'd like however as the season goes on and the more experience you get you would've aced the batting and will be hitting like a pro.
Pitching is also easy to do although at first placing the balls may be frustrating but you'll soon get used to it. First off you can chose from whether you want to throw a fast ball or a curve ball etc. then use your finger to drag where you want the ball to go.
The layout and gameplay outside of match mode is user-friendly and won't leave you frustrated and wondering what to do, all you need to do is tap a button for training or a button for shopping and then chose what kind of trining you want to do or what you want to buy from the shop.
GRAPHICS: 7.5/10
I'm quite generous in this area, partly because I've always got in the back of my head "They're pretty good for an iDevice game" but really I should stop thinking that as the iTouch/iPhone is quickly becoming a portable gaming device.
Now the graphics in this game are sprites in a very manga-esque style which isn't to everybody's taste, however I rather enjoy them and they are there to be enjoyed, they're not perfect or special but they are entertaining and part of the games style.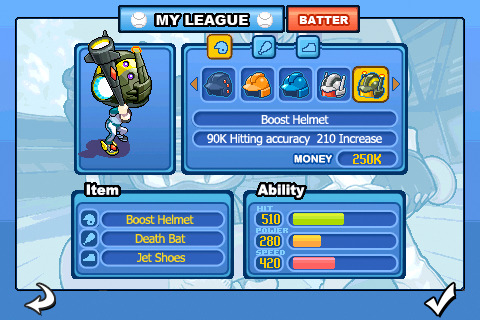 And it's not just graphics for the characters there are well drawn out baseball bats, helmets and clothes and other customisation objects. Stadium graphics are also a key factor, there are different types of stadiums and pitch types all with their unique style.
MISC: 9/10
It's the little things we take for granted in games and it's the little things that really matter. This game is full of little extra add ons that don't need to be there but are there to make the game a more enjoyable experience. These add ons include, customisation items such as bats and helmets, different type of pitches from green and grassy to murky and muddy. And of  course the most important, different game modes from Career mode and Season mode to Training modes and just simple Exhibition matches for when you're only able to play in 5 minute bursts.
The best feature in my opinion is the shock you'll get when suddenly you'll find your self facing a bizarre looking mystical creature which certainly knows how to pitch a ball or swing a bat. You know you're on top of the game when you manage to strike one of these guys out.
So at the moment I bet your thinking, "Wow! With all these funky features why doesn't this part of the review get a full blown 10/10?" Well for one simple reason, and that is the games replay-ability factor. Despite all the nifty game modes included, you're gonna get sick of it eventually. As I did about 4 seasons into career mode, things start to repeat themselves and you begin to wonder what's the point, and lets face it, exhibition matches that you end up constantly winning can only entertain you for so long before you get bored.
FINAL COMMENTS:
Overall, one can't deny that this is a terrific game and a contender for the best baseball game on the app store (Yeah I know there's not many ;p.) $4.99 is probably the perfect price but it wouldn't be doing itself any harm if there was a price drop.
So thanks for reading this review and I hope it's helped you who where all sitting on the fence about whether to buy this game or not decide.
TGS
APPDOPE SCORE: 8.1/10
NAME: Baseball Superstars 2010
PRICE: $4.99/£2,99
DEVELOPER: Gamevil
GENRE(S): Roleplay/Sport
iTUNES LINK: Baseball Superstars 2010